Every session includes *3-15 digital files. These are optimized & ready for printing. Because we are providing direct digital downloads & no physical products- there's NO TAX on our session fee.  After you've chosen your set of files, we will send you an email with a link to a Dropbox folder which will contain your zipped files.
Submit your Digital Request-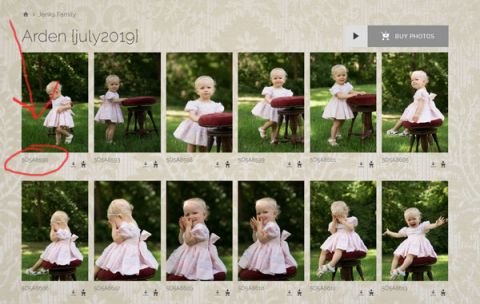 Locate the image numbers for your images. You can find them underneath each thumbnail.
Once you've written down your image numbers, submit them to the studio using the request form.
You will receive confirmation once we've received your request.
Images will be ready between 12-14 business days & you will receive an email with further information once they are ready for download.
When you receive your files; DOWNLOAD THEM IMMEDIATELY- they will remain online for ONE WEEK!
If you are a Preferred Client…
For families that have signed up as a  Preferred Client, you will receive ALL of your web optimized images ready for posting & sharing!
These images are optimized and watermarked ready for posting online.  The watermark protects your images from being stolen & used without permission by a third party.  Remember to credit us when sharing on social media!